Choosing the right material for your kitchen sink can be very much confusing. Chances are, you want a material that is durable, practical, and one that gives your kitchen a decent look.
Sinks come in different materials, including granite composite, stainless steel, copper, fireclay, cast iron, and many more.
With so many options available in the market, you might find it challenging to make a decision. Depending on your feature preferences, you will be in a position to decide if you're not sure what to get between fireclay and stainless-steel sink.
Stainless Steel Sink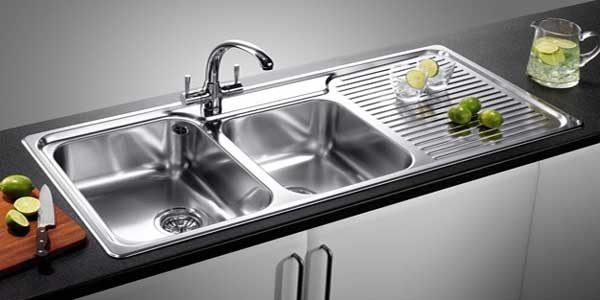 Stainless steel is the most commonly used material for kitchen sinks. It offers one significant advantage to its customers, affordability. However, your stainless steel sink price is likely to be determined by the weight and steel gauge. Additionally, when the steel is thick automatically, the gauge will be lower.
Most steel sinks have a gauge ranging from 18 to 22 inches, but you can find others 15 to 24 inches. If you want a sink with less noise, minimal dents, and scratches or on that's not prone to wear and tear, a heavier gauged sink will be a great choice.
Of course, a more cost-effective sink is accompanied by some trade-offs. For instance, stainless steel sinks are noisier than other material sinks, but you can find versions with built-in sound-absorbing rubber pads.
They also show water spots quickly, and you might need extra effort to maintain their flawless look. On the positive side, they're heat resistant.  If you're torn between a chrome-like or mirrored finish and a satin/ brushed finish stainless steel, it would be better to purchase the satin finish as it helps prevent wear more than a chrome-like finish.
From an aesthetic opinion, stainless steel sink is compatible with stainless steel appliances since most kitchen appliances such as fridges, faucets, and other hardware have a stainless-steel finish. Unless you're searching for features that offer a unique finish or blend with your cabinets, a stainless-steel sink will fit all your kitchen design.
Here are some of the most significant positive and negative sides of a stainless-steel sink.
Pros:
Stainless steel sinks are very easy to install. While you may need professional help for other types of kitchen sinks, you can install the stainless sink on your own if you don't want to hire a plumber.
They're the most popular kitchen sinks amongst all other materials as they are compatible with most kitchen interiors.
they are effortless to clean
it fits your budget perfectly. If you need a long-lasting sink that will not cost you much, you will make the right choice by choosing a stainless kitchen sink.
Stainless steel sinks are also resistant to breakage, so if you accidentally drop a heavy object, there will be lesser chances of breakage or cracks.
Stainless steel sinks are versatile. You can purchase a stainless steel apron front sink in single or double bowl varieties. Besides, most double bowl sinks come in different layouts to emphasize one basin over the other.
Cons:
Stainless steel sinks get scratches quickly. Even the slightest impact can cause a scratch resulting in damage to the sink's shiny appearance and the overall look.
They are not sound resistant. A continuous flow of water on the sink can create noise that may be so annoying sometimes.
They only come in silver. Hence, if you're looking for different color options to match your kitchen interiors, this might not be an option for you.
The stainless-steel kitchen sink can build up watermarks on them with time, ruining the entire sink's shiny appearance.
Fireclay Sink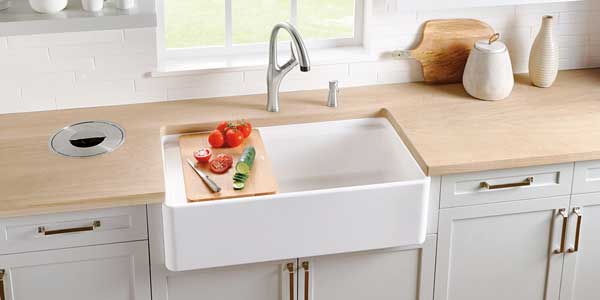 Fireclay is an ancient but timeless feature your house can't go without. Fireclay sinks are manufactured from ceramic clay dried at high temperatures then passed through higher temperatures in a kiln to create an outer layer made of porcelain enamel. This process makes both the porcelain enamel and the ceramic clay durable, and the sink has a glossy shine.
The fireclay sink is resistant to scratches, discoloration, stains, chips, and fading. They are easy to maintain and clean with nothing more than a simple cloth or sponge, though you can use extra abrasive cleaners if need be.
These sinks have a consistent look, and in the case of a chip, you will hardly notice it since the clay layer is similar to the porcelain enamel. Since clay is used separately, you can find the fireclay sinks in a wide range of colors from white, blue, black, or with unique swirls or patterns on the front apron.
While fireclay sinks tend to be quite expensive, some brands offer cost-effective fireclay sinks to fit your budget. Keep in mind that these sinks are heavy and will need extra support, probably a stand, so you might need to decide on the type of sink you want for your kitchen early during your kitchen design process.
Here are the pros and cons of fireclay sinks for your convenience and comparison.
Pros:
Fireclay sinks are the most elegant looking sinks you can find in the market. They're smooth with a sleek finish that makes your kitchen unique. Besides, it levels up to your kitchen's overall interior.
While most of the fireclay sinks are white, you can also find them in other color varieties that can match your kitchen.
They're more resistant to heat compared to other kitchen sink materials; hence, you don't have to worry about pouring hot substances over them.
Fireclay sinks are noise intolerant. They make little noise from the water flow and are a bit quieter compared to other sink materials.
They are also made up of very smooth and uniformed texture, which makes them easy to clean and, you only need a few cleaning agents to maintain their shine.
Cons:
They're heavyweight, unlike other sink materials. They are excessively heavy that it makes it challenging to maneuver and requires more than one person to lift them and install them.
You will require very accurate measurements to install a fireclay sink and a strong base to support its heavyweight, making the entire installation process challenging.
The fireclay material is a bit fragile hence the need to be handled and moved carefully. It is quite vulnerable to cracking and breaking.
Fireclay sinks are quite expensive. If you're looking for a cost-effective kitchen sink and your budget doesn't meet the most affordable fireclay brand, you will have to go for other materials available in the market.
Conclusion
Different people prefer different features for their kitchen sinks. Some may want affordable sinks, while others wish for unique and classy features and are willing to spend any amount for that. It is upon you to decide what you want, depending on your needs and budget.
If your top priority is your budget, you can always go for the stainless steel sink. No matter what, it will still stand out in your overall kitchen layout and provide your desired elegance. Otherwise, if you're in a position to spend more, fireclay sinks may be the best choice for you.