With so many kitchen sink materials, the market is flooded. The quality of a kitchen sink depends on its material. In this guide, you will find a comprehensive list of every type of kitchen sink materials and styles under the sky, followed by individual explanations of each variant!
Types of Kitchen Sink Materials:
When kitchen remodeling, renovating or building a new kitchen, finding the best type of sink material is must. The golden rule of choosing the right material is considering how you intend to use your sink.
If your kitchen sink is daily exposed to heavy traffic and abuse from hot utensils and scalding hot liquid, you might want to consider a non-porous, heat and scratch-resistant material like granite composite, copper, high grade fireclay or stainless steel. Below we have listed and briefly explained 10 most popular and reliable kitchen sink materials the market has to offer:
1. Stainless Steel
The smaller the gauge, the thicker the steel is- that's the first lesson to learn by heart if you have already made up your mind about getting a stainless steel sink.
Those who think stainless steel kitchen sinks are plain boring need to get their facts right. These days, a lot of manufacturers will offer you a huge array of colors, textures, finishes, and layouts to choose from.
Read our complete guide about the best stainless steel farmhouse sink.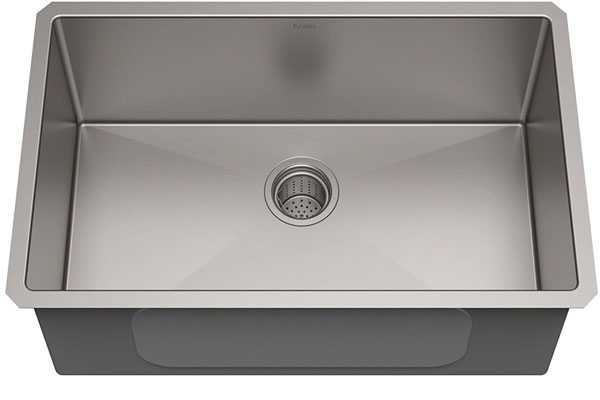 If you actually check out the sheer variety of stainless steel sinks available today, we will be left spoilt for choices. The biggest advantage of this material is its ability to survive high impact, heat, shock, rust, and corrosion.
You can just toss a scalding hot frying pan, baking sheet, and heavy-duty cookware on it without worrying about the material chipping off or losing its integrity.
Thinner steel might develop hairline scratches as the days go by but they are pretty easy to get rid of with a mild cleaner and sponge. The even finish and smooth surface of these sinks hardly develop stains or bad odor if you give the sink a quick cleanup after every use. Hygiene-conscious folks would appreciate the fact that germs and bacteria cannot easily thrive on a stainless steel surface.
2. Pure Granite Sinks
If you are a sucker for beauty and ready to pay a couple of big ones for a stylish and glossy kitchen sink, a pure granite sink would be the way to go. The sheer magnitude of color, texture, finish, and mounting varieties it offers will leave you bedazzled.
In case your countertop is made from either one of these materials, an integrated or undermount similar material sink will add an amazing fluidity to the entire setup.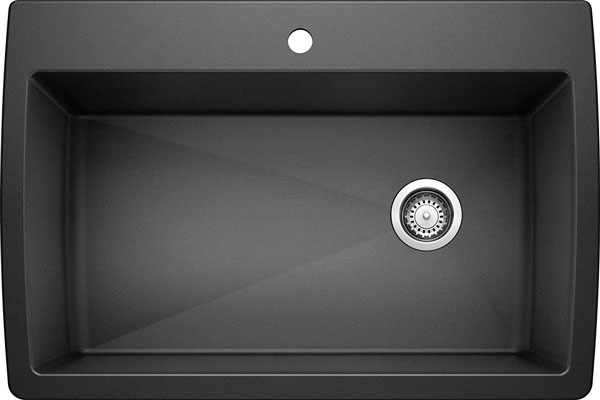 Granite is an igneous rock which is phenomenally strong and heat resistant. While this means incredible durability, let's not forget that the rugged surface will be less forgiving to your China and glassware.
Due to its porous nature, it can catch stains and grime if you don't scrub the surface well after an intense dishwashing sesh. Also, granite sinks are quite heavy, thus, you would be required to reinforce your existing cabinet and countertop to support the sink which will obviously drive up the installation cost.
3. Pure Quartz Sinks
Quartz is a type of rock-forming mineral. If a stone is formed only with quartz mineral, it's called quartzite which is probably one of the most expensive sink materials you can get your hands on. Quartz kitchen sinks don't just look pretty.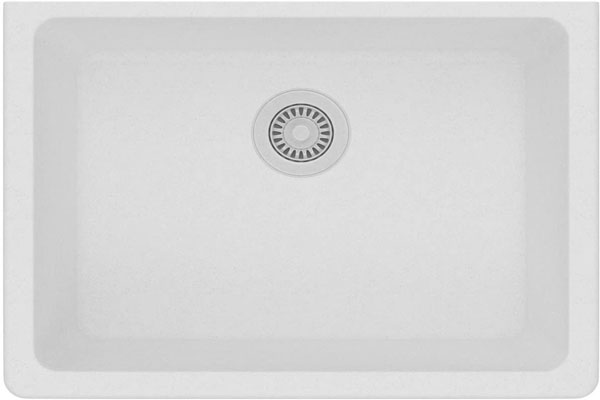 This is one of the hardest kitchen sink materials which can survive all sorts of impacts and abuse you may subject it to. Its high density and non-porosity make it impervious to dirt and scum accumulation.
In short, you don't have to be Monica Geller to keep your quartz kitchen sink Monica-clean.
It's only weakness is its relatively low heat resistance. Temperature over 573 degrees can cause noticeable damage to your shiny quartz kitchen sink. So make sure to run cold water down your sink while draining pasta or rice.
Dark colored sinks would create a chic contrast against a quintessential white granite countertop but here's the catch: dark surfaces are prone to show signs of wear and tear more prominently than their lighter color variants, something to keep in mind while shopping.
Why don't you hit the middle ground by choosing a color that's neither too dark nor too light? Say, light brown? Like granite, quartz sinks are also pretty heavy duty which will add up to the installation expense.
4. Composite Granite
The trend of composite stone-made sinks is really catching on. If you badly want to have the aesthetic flair of granite or quartz but your wallet isn't permitting it, simply composite it up!
Most manufacturers add acrylic resins to the stone to make the material reduce their porosity and amplify their strength and heat-resistance.
Read our complete guide about the best granite composite sink.
Composite sinks can withstand extreme heat, abrasion, and chemical weathering like a champ. Keeping the surface spotless, grime, and bacteria-free is also quite easy.
Having said that, you do have to scrub off the surface with a sponge and a mild cleaner everyday to keep the stains at bay. Also, composite sinks are only available in matte finish and are just as hefty as natural stone sinks, something you might want to keep in mind before reaching a conclusion.
5. Soapstone
Soapstone has been the hottest trend in kitchen renovation since the 1800s. Due to the non-porous and robust nature of the stone, it's been primarily used in laboratories.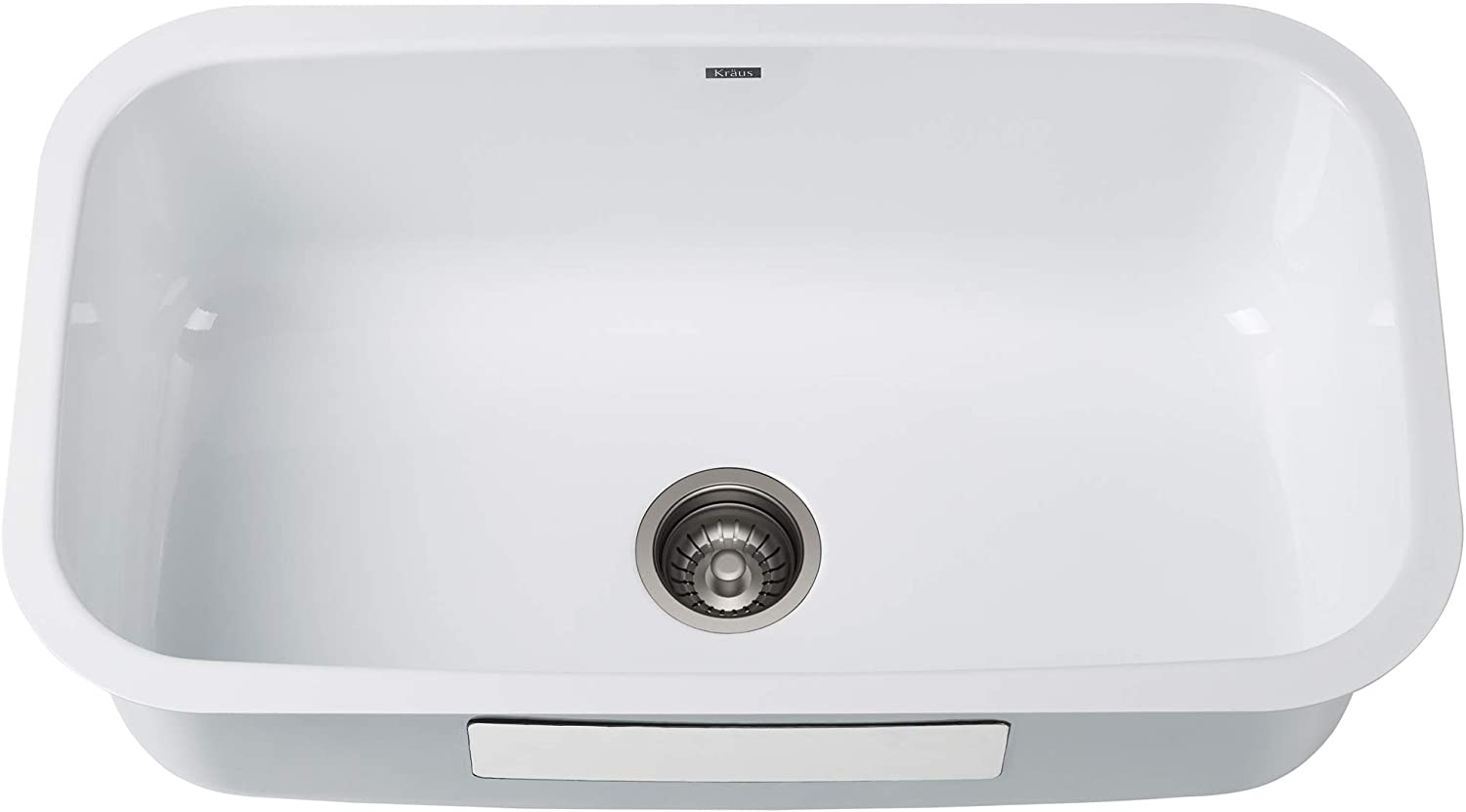 But lately, soapstone kitchen sinks became increasingly popular among the people who want the perfect combination of vintage beauty and indestructibility. High heat, chemicals, and acids present in abrasive cleaners ain't got shit on it.
Its soft nature also makes it more pliable than other kitchen sink materials which means you can cut it to literally any size, too small or mega large, to fit your countertop and cabinet. A premium-grade custom-designed soapstone sink will cost about the same as a high-grade stainless steel sink.
However, mind you that soapstones don't offer as much color or texture variety as granite or quartz. Soapstone can also catch water stains easily if you are not careful enough. However, rubbing the surface with beeswax and mineral oil mixture can easily take the stains out.
Soapstone sinks also darken over time which actually adds to its retro vibe but you have to periodically polish the surface to mineral oil to make sure it darkness uniformly.
6. Copper
Copper sinks are timeless beauty. Lots of trends come and go but only a few manage to remain in vogue throughout decades, vintage copper sinks being one of them.
Apart from a statement-making look, copper is also blessed with high thermal resistance and remains unbothered by rust, corrosion, and indentations.
Read our complete guide about the best copper sink.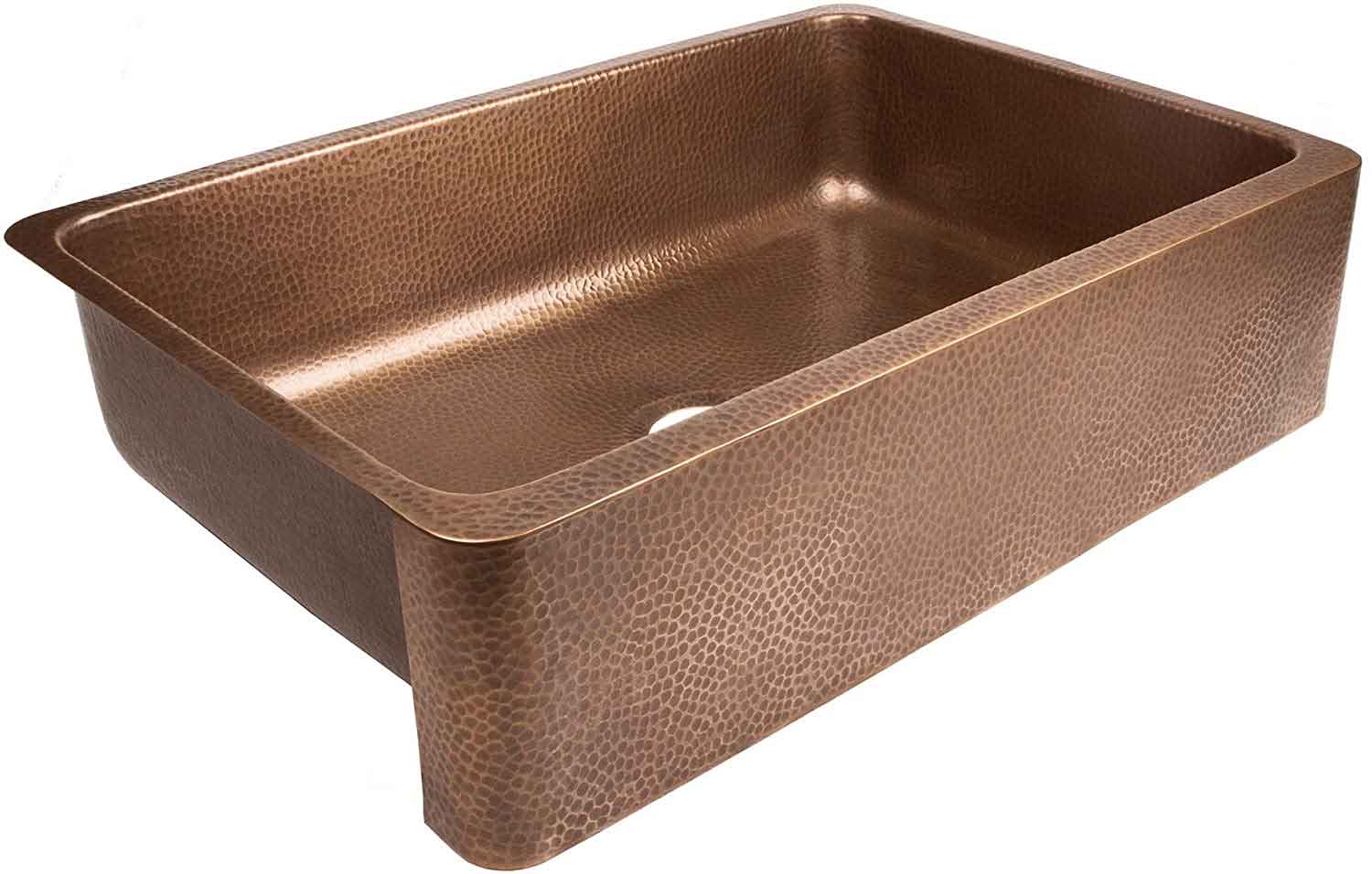 Like soapstone, copper is also easily pliable, making it easier to custom-design the sink to snugly fit your kitchen countertop. The strong antimicrobial properties of copper make it impossible for those pesky bacteria to harbor on the surface of your sink.
If hygiene and low maintenance are at the top of your priority list, there's a copper sink waiting for you in some distant warehouse of an e-commerce giant.
Copper tends to develop a blue-green hue as the time passes. This is actually a form of corrosion called Patina. Instead of trying to get rid of it, most aficionados embrace it as copper's aesthetic quality. If you are already feeling a mixed bag of emotions about Patina, you may want to skip copper.
Proper sizing is the only real issue with copper since they are mostly handmade by craftsmen. No two sinks are the same and customizing the width and depth precisely to your countertop's size would require expert craftsmanship which would naturally drive up the cost of the material.
7. Fireclay
No other kitchen sink material can survive extremely high temperatures like fireclay. It's one of the newest kids on the block and is here to stay for its phenomenal heat resistance (can withstand 1800-2200 degree F) and robust build quality.
Fireclay is a type of refractory clay coated with ceramic glazing to make the surface glossy and impervious to chipping, scratching, and stains. Fireclay ceramic is in high demand these days for farmhouse or apron kitchen sinks due to its striking finish and high malleability.
Read our complete guide about the best fireclay farmhouse sink.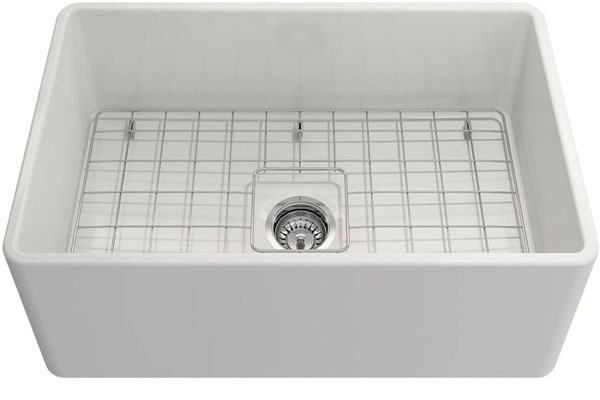 The is only one caveat you need to bear in mind if you are opting for a fireclay sink and it is the heavyweight. You will have to reinforce the cabinet to secure the sink in place which will increase installation complexity and cost. Read our guide about how to install a fireclay farmhouse sink.
8. Enameled Cast Iron
Cast iron sinks are forged at high heat which lends the material its superior durability and heat resistance. The enamel-coated baked into the iron substrate gives it a sparkling finish and shields it against all water stains, scraping, and scum accumulation. Keeping an enameled cast iron sink squeaky clean only requires plain water, wet cloth, and a mild cleaner.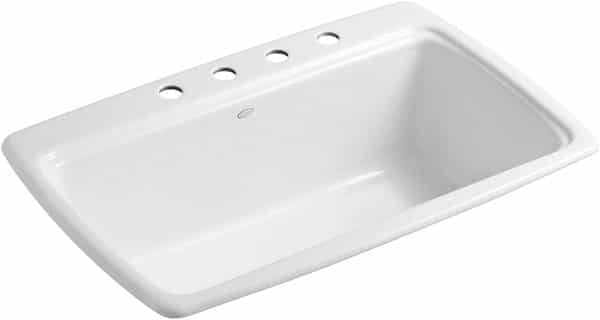 You shouldn't use a chemical-loaded harsh abrasive cleaner to scrub off the surface as it can erode the protective enamel coating and thus, shatter your dreams of having a pretty sink that lasts a lifetime.
9. Porcelain and Ceramic
Pure porcelain and ceramic sinks are still the go-to choice for the traditionalists. The massive variety of colors, patterns, textures, and mounting options they offer make it suitable for both traditional and contemporary modular kitchens.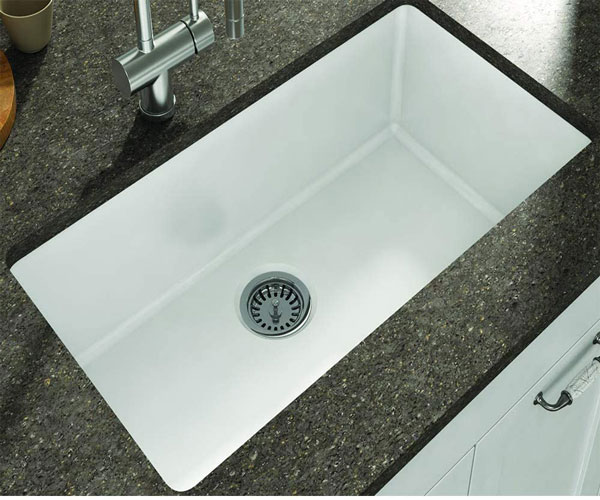 Porcelain and ceramic are hard, dense and non-porous, making them the most low-maintenance sink materials of all time. Porcelain is slightly harder and less porous than ceramic, meaning it can handle heavy traffic and abuse better than the former.
On the downside, both porcelain and ceramic sinks are prone to chipping if you handle them roughly. You can't just toss your heavy-duty cookware and knives on it and get away with it. While the material itself is pretty solid, the coating on it isn't. Throwing heavy cookware on it can severely damage the protective coating.
10. Solid Surface
Solid surface sinks have recently gained a huge popularity due to its low cost, low maintenance, aesthetically-pleasing designs, and durability. The core material is basically a mineral compound mixed with acrylic resins and/or polyester.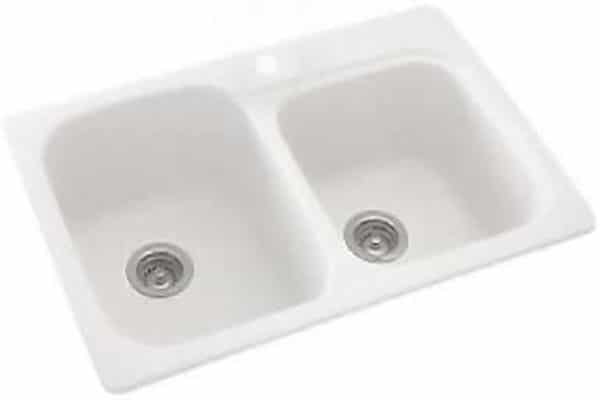 It's an ideal choice for undermount sinks as they offer a seamless continuity to the countertop, adding a sleek and fluid design element to modern kitchens. The hygienic non-porous surface doesn't trap odor, food particles, or harbor bacteria if you clean up the mess after each use. The only con worth pointing out is its proneness to scratching if handled roughly.
Best Kitchen Sinks:
Kitchen remodeling was easier back in the olden days when there were only a handful of options to think over. With a huge surge in sink or washing basin manufacturing technology, our humble kitchen sink configuration has gone through a massive revolution in the past few years.
There are many top players, aka sink styles and configurations in the game now and each comes with a unique set of pros and cons. Now, you, my friend, who is completely new to kitchen remodeling have to make lots of quick and rational decisions in a very short time.
Scouring the web for kitchen sink style inspirations is exciting at first but gets exhausting after an hour or so. It can take days or even weeks (if you are a perfectionist) to find the right sink type that fits both your countertop space and budget.
Fret not, though as I am here to straighten things out for you. I have listed the most common and uncommon types of kitchen sink options available under the sun with detailed descriptions of each variant. Since both of us clearly value our time, let's cut to the chase:
1. Overmount, Self-rimming or Drop-in Kitchen Sink
Overmount or drop-in kitchen sinks can be seen everywhere. They are the oldest and arguably the most popular choice for kitchen sinks all over the globe. As quite evident from the name, this kind of sink is mounted into the hole of the countertop.
The rim or lip of the sink is permanently sealed to the countertop surface to secure the basin in place. Since the rim of the basin itself holds the bowl in place, you don't need any extra internal support system for installation which significantly decreases the installation cost while simultaneously increasing the ease of installation.
Read our complete guide about the best drop-in kitchen sink.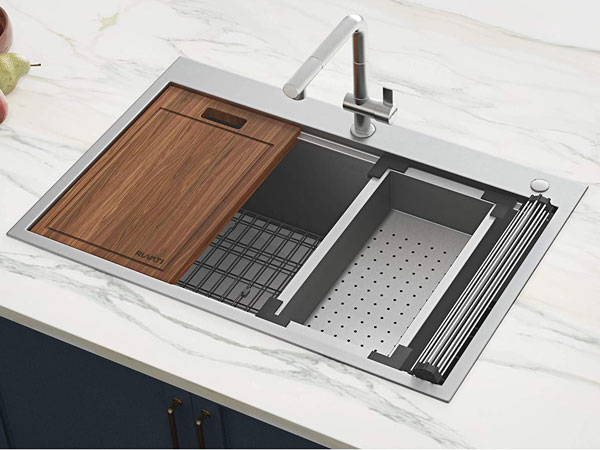 In top-mount sinks, the rim is clearly visible which makes deep-cleaning the sink quite easy. This configuration also creates additional storage space under the sink.
The only two negatives of overmount sinks are that: one, it eats up a big chunk of space of your worktop. So if you are dealing with a serious space crunch, drop-in sinks can considerably reduce essential workspace. Second issue is minor but still worth pointing out.
The joint between the rim and the countertop surface can accumulate scum and dirt over time. However, the seam is easily visible, so cleaning up the gunk won't be that hard.
2. Undermount Sink or Integrated Sink
Undermount sinks dish out a sleek, chic, and fluid appearance by virtually blending into your countertop. It's ideal for small cooking areas as the countertop extends to the sink, which serves dual purpose: easy countertop cleanup and extended food prep space. Read our undermount sink complete guide about the Kohler Prolific Sink.
You can create an epic contrast by pairing up a light or dark-colored sink with your natural stone-made (such as granite, quartz, or marble) countertop. Since there is no overlapping lip on the edge of the countertop, the sink edges don't accumulate stubborn gunk like overmount sinks.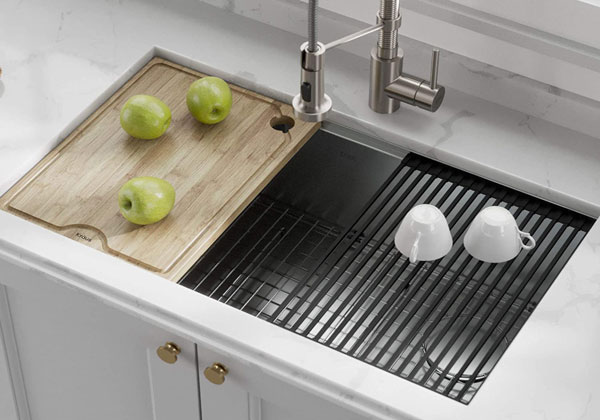 The only reason a lot of people don't opt for undermount sink despite so many benefits is due to their complex, hence expensive installation process. Since the rim of the sink doesn't hold the bowl in place here, you'll need to reinforce the cabinet and countertop to create a suitable supporting structure for the sink.
It's not possible to DIY-install an undermount sink unless you are a pro plumber. The setup process involves drilling holes into the countertop surface to put the supporting clips. Finally, the sink needs to be caulked to perfection to make sure it doesn't fall off when you throw in a bunch of heavy cookware on it.
3. Single Basin Sink
The name itself is quite self-explanatory, isn't it? While common sense says it's better to have multiple basins to keep washable dishes and prep able food items separated, it's not practical if you have limited kitchen space to work with.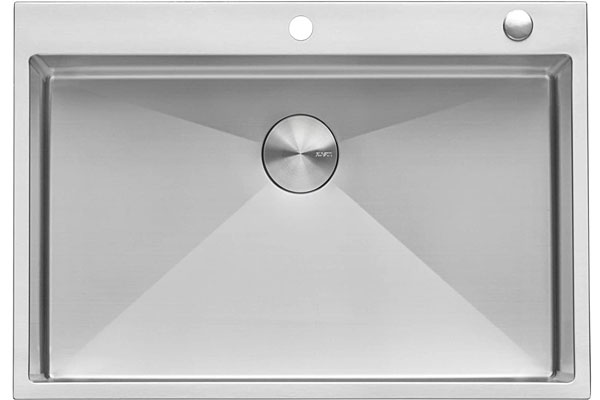 Single-bowl sinks are typically larger than double or triple basins which takes the chore out of cleaning large and heavy crockeries. 33-36 inches wide and 8-10 inches deep single bowls are quite a trend these days.
Many top-of-the-line manufacturers provide add-ons like rinse baskets to enhance functionality and free-up essential workspace. As far as cleaning and maintenance are concerned, single bowls are delightfully low maintenance as there are fewer edges and sides to clean.
4. Double Basin (60/40, 50/50, 70/30 Sinks with/without Low Dividers)
If you want more flexibility and a neater kitchen space, splitting the basin width in 60/40 or 50/50 ratio does make a lot of sense. 60/40 or offset sinks are more common since they serve with a combination of a larger 18-inch and smaller 14-inch bowls for two separate jobs, e.g washing dishes and prepping food. The larger side is large enough to fit oversized cooking utensils and accessories.
It also allows you the luxury of washing your crockeries and cooking equipment using two different methods: one sink for soap washing and another for plain water rinsing.
50-50 sinks basically do the same thing which is providing the convenience of washing dishes on one side and prepping food on the other. Most people prefer 60/40 sinks over 50/50 because soaking cookie sheets and washing large pots, bread bowls etc. are nearly impossible in regular-size 50/50 sinks.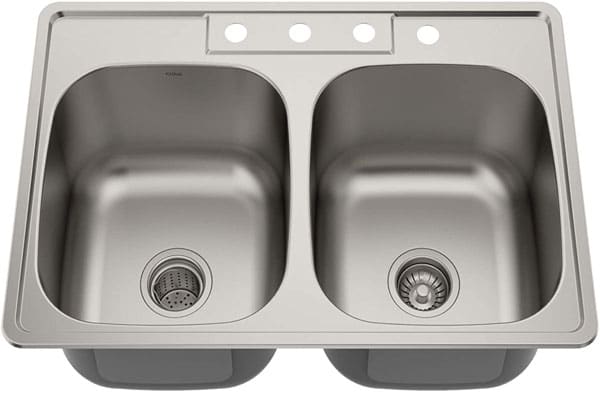 I personally consider 70/30 sinks to be the most high quality out of the three double basin variants. I can easily fit my huge and hefty pots, grimy baking trays, crock pots, tall pitchers on the larger side and rinse the veggies, meats, and stuff on the smaller side
With the advent of advanced technology, it's absolutely possible to level up your customization game even higher. By installing a low divider in your 60/40, 50/50 or 70/30 sink, washing long and wide cookware would become a lot easier.
Low dividers are a go-to choice for high-end restaurant kitchens and other industries which involves a hecking amount of heavy-duty washing all the time. Low dividers provide a solid overflow protection by passing the water from one basin to another.
In general, apart from a challenging and expensive installation process, most standard-size double basins don't provide as much space for washing as 30" or wider single sinks. Fitting large pots and tall pitchers in them for soaking or filling with water is also not that easy-peasy.
5. Triple Basin
If you are one of those hygiene freaks who love to keep the workstation as neat as it could possibly get, you might gravitate towards triple basins which is basically a double basin with small garbage disposal in the middle.
It's a very practical way to keep the waste and grime away from your food and dishes. As long as you have a spacious countertop at your disposal, installing a triple basin won't clutter up your cooking area.
One major drawback of triple bowl designs is that you can wash away the dirt off your countertop straight into the garbage disposal since it sits in the middle. However, you can always ask your handyman to integrate a sink cutting board insert. This could add up to the installation cost but will be worth it in the long run.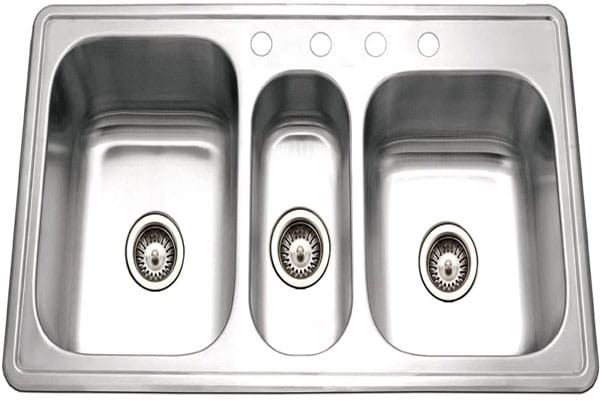 6. Farmhouse or Apron Sink
A Farmhouse kitchen sink can add a classic retro design element to the kitchen. The apron front which rests about 4 inches away from the countertop edge makes the sink easily accessible to people with shorter height. Farmhouse sinks come in both single and double bowl variants.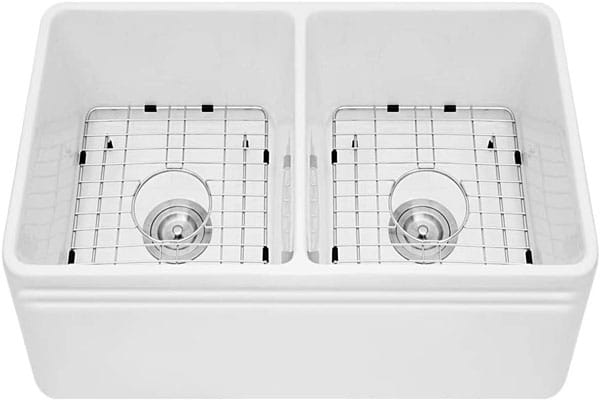 If you choose natural stone, stone composite, or porcelain as the core material of your sink, you'll have the luxury to customize the color and layout to your liking. For the ease of cleaning, many homeowners are gravitating towards curved single bowls with rounded sides.
If you are okay to loosen up your wallet just a little bit more, I'd suggest going for a sink featuring angled rims paired with round edges at the bottom surface for a neater and sharper appearance. Farmhouse sinks are perfect for washing dishes for its durability.
7. Kitchen Island Sink
Kitchen islands are the latest fad among homeowners as they not only look chic but also do double duty as a cool dining space. Adding a small single basin at the center or corner of the island can take the functionality of the open space to a whole new level of awesomeness.
You can use it as a secondary sink for prepping food or storing clean and dried dishes while your main sink remains reserved for heavy-duty cleaning. I have seen the perfect milieu of copper sinks complemented by bronze faucets in many native Spanish and Mediterranean homes. The breathtaking vintage vibe of these in-built copper kitchen island sinks must be every interior decorator's wild fantasy.
8. Sink with Built-in Drainboard
A built-in drainboard alongside a wide single or double basin would amplify the utility by ensuring a clutter-free and hygienic area for food prep. The drainboard doubles up as a clean spot for air-drying the washed dishes and veggies as the excess water flows to the sink which also eliminates the need to constantly wipe the surface.
As an inevitable downside, built-in drainboards gobble up a lot of countertop space. So if space is at a premium in your kitchen, you should let go of the idea of installing a drainboard.
9. Corner Sink
As you have already guessed from the title, a corner sink is basically any kind of sink located at one corner of your countertop. If you have a wide space to spare, a corner sink can help you keep the cooking area clutter-free and mess-free. You can also put a drainboard beside the sink to make the most out of your free corner space.
However, you need to remember that installing a corner sink can considerably increase the total cost of installation since the handyman will have to precisely cut the seamed countertop corner to make space for the sink.
10. Gallery Sink
Custom-made gallery sinks are becoming increasingly popular in restaurant kitchens. From washing dishes, rinsing and chopping edibles to finally serving them on plate, everything happens in the same area.
Multiple sinks are separated using dividers and equipped with add-ons like built-in drainboard, rinse basket, and condiment dispenser to make bulk food prepping a snap.
11. Bar Sink
A bar sink, also called a prep sink, can be a neat and chic addition to your home bar. Read our complete guide about the best bar sink. This type of small and compact sinks generally serve as a secondary sink in large kitchens and are typically used for making drinks, garnishing food and other teeny weeny jobs that require a faucet. It's a feasible option as the primary sink for small kitchens as well. Due to the small size and depth, washing big utensils or filling tall pots won't be possible with bar sinks.
Apart from the kitchen sink material and sink style, there are a couple of other critical factors to reflect on before buying a sink. After all, kitchen sinks are not clothes or dirty nappies which you can just replace with a new one in a snap. So take your time to consider all the aspects that can make or break the deal.
Here are the key determining factors to ponder upon while shopping for your next (or maybe first ever) kitchen sink:
Number of Sink Bowls
Do you happen to do a lot of cleaning and cooking and would love the convenience of being able to do both over the same sink? Then consider a dual bowl sink. Make sure the washing side and the food prepping side of the sinks have adequate room for your daily tasks. That's the only rule of thumb you got to follow here.
I have already spoken in detail about different split ratios in the previous segment, do check that out if you skipped in by any chance. If you have a large kitchen area or a kitchen island, the options are literally endless for you. Let's just say if you can dream it, you can get it.
I would highly suggest maximizing the large space you have by installing a secondary wet-bar sink or kitchen island sink for food prep and other small jobs that only require a tiny cleaning bowl and a faucet.
Size of Your Cabinet
Having all said and done, at the end of the day, it all boils down to how much space you can spare for the sink. If you are dreaming of getting a sleek undermount or farmhouse sink, you should consider the size of your cabinet as well. Take a measuring tape and measure the width from left to right.
That's your cabinet size and the sink you are buying should fit it perfectly. If you are keen on getting a large sink, you might need to invest in a custom-sized cabinet to support it.
Countertop Depth
Finally, you need to measure your countertop depth to determine the ideal sink width and depth for it. Usually, countertops with a backsplash limit the sink space by a small margin, something to keep in mind while browsing through your sink catalog.
Frequently Asked Questions (FAQs) about Sink Materials
Before wrapping up this guide, I would like to take a moment and answer the most Googled queries about kitchen sink materials, styles, and sizes. If you have taken pains to read along everything I've written so far, you probably know the answer to most of these questions.
But if you are still on the fence about which kitchen material and style would be well worth the money, this Q&A section should clear up every last speck of cloud of confusion you might still have.
On the other hand, those who were short on time or were simply too lazy to read the whole thing will also get a clear idea of what they should and shouldn't be looking for.
1. What material is best for kitchen sink?
Ans. As far as value for money, durability, and ease of cleaning are concerned, the only material that ticks all the boxes is stainless steel. I mean granite or quartz composite is also tough as nails and incredibly resistant to denting, scratches, and even high heat.
It also comes in a wide range of dazzling colors and textures to complement the existing decor of your kitchen. But those bad boys are pretty expensive.
The bottom line being, if you are okay to pay the premium for the long lifespan, finesse, and a touch of sophistication, granite or quartz composite would be the way to go. However, when it comes to hitting that sweet spot between usefulness and value for money, stainless steel is hard to beat.
2. Are quartz sinks better than stainless steel?
Ans. That depends on how cleaning you usually do, the type of crockeries you use, and most importantly, how you picture your sink to look like in your mind. Quartz sinks are generally more expensive than Quartz composite sinks which are 80% natural stone and 20% acrylic resin.
By coarsely grinding the stone and mixing various colors with resin, quartz composite sinks can be crafted with lots of different colors, tones, and patterns. It goes without saying that when it comes to aesthetic flair, stainless steel is no match to quartz and quartz composite sink material.
These stone composite sinks reserve impeccable heat resistance as well. They won't easily give in to temperatures up to 550-degree F.
Another massive advantage of quartz is its natural soundproofing quality. Unlike stainless steel sinks that begin to sound like annoying drums when you turn on the tap or drop dishes on it, heavy-weight and flexible quartz mute the sound of the impact.
This natural stone is blessed with excellent malleability which allows you to customize the size and installation exactly to your liking.
Now, coming to the downsides, quartz sinks are considerably less forgiving to your delicate crockeries than stainless steel. If you accidentally drop a China on your quartz sink, that'll be the end of the story.
Fortunately enough, that's not the case with stainless steel. Even heavy gauge steel (up to 16 gauge) flex well enough to minimize the impact, keeping your crockeries unbroken when they mistakenly slip from your hands.
Dark-colored quartz/quartz composite sinks look dapper by creating a perfect contrast to light-colored countertops. However, they are more prone to show the signs of wear and tear over time. That's why most interior designers recommend light-colored quartz sinks as scarpes, chipped sealant, knife scratches are less visible on them. They do cost a fortune but are worth it as their velvety smooth, non-porous surface makes cleanup a breeze.
On the other hand, even affordable thin gauge sink materials don't easily expose wear and tear marks, The hairline scratches they might develop over time are easily fixable too.
In short, quartz sinks are neither better nor worse than stainless steel sinks. It's all about what aspects you choose to prioritize.
3. Are stainless steel sinks out of style?
Ans. No way that's happening anytime soon and here's why:
Stainless steel sinks are better known for their practicality, hassle-free maintenance, easy installation, and low cost. Aesthetics have never been its strong suit. There are a host of other kitchen sink materials that look way more plush and sophisticated. However, sinks are not just meant to look good, they are not Playboy mag models.
They are meant to be useful. Since stainless steel sinks are incredibly forgiving, durable, and easy-to-clean, they will never go out of style. These days, manufacturers use heat coloring to give those insipid-looking stainless steel sinks a dramatic makeover. It's totally possible to get your sink's color and pattern to chime with the overall decor of your kitchen by shelling out just a couple of extra bucks.
4. What type of kitchen sink is the most durable?
Ans. Stainless steel is the overall best kitchen sink material as far as durability and cost are concerned. However, they do come with many limitations such as the inability to resist heat over 500 degrees F and general lack of versatility in terms of design. The good news is, gone are the days when stainless steel was the only game in town.
These days, you have materials like copper, fireclay, and graphite or quartz composite sinks to choose from which not only offer extreme heat resistance but also a plethora of color, tone, and pattern customization options.
The only major downside to keep in mind while choosing any one of them is that most of these heavy materials will be less forgiving to delicate cookware if they accidentally slip from your hands and are considerably costlier than stainless steel sinks.
5. What is the easiest kitchen sink to keep clean?
Ans. Non-porous surfaces are a breeze to keep clean as they don't trap the gunk and odor into the nooks and corners of the sink. Stone composite (mainly quartz or graphite composites) or solid stone, fireclay, solid-surface acrylic resin, and copper offer buttery smooth, non-porous surface which cuts down the cleanup chore in half.
6. What is better- undermount or overmount sink?
Ans. When it comes to spacing countertop space and giving the kitchen worktop a sleek, seamless look, undermount sinks hit home and how! The fact that the food prep area extends and blends into the sink rim makes sweeping away the dirt from your cooking space a cinch.
Now, the things that don't go in favor of undermount sinks are the biggest advantages of top-mount, overmount, or drop-in sinks. For example, overmount sinks are a breeze to install, they are compatible with almost all types of countertops (except the tile and laminate worktops as the don't ensure a secure seal between the clip fasteners and the countertop base), and finally, they are easier on the pocket.
So if you are ready to go the extra mile to make your worktop look jaw-droppingly beautiful and easy to clean, I can't recommend undermount sink highly enough. However, if you are on a tight kitchen renovation budget and have a spacious countertop to work with, an overmount sink will serve you well enough.
7. What is a 60/40 sink?
Ans. A 60/40 sink, also known as offset sink or double sink, is essentially a small (generally 14 inches wide) and a larger (usually about 18 inches wide) rolled into one unit. You can use the larger side for doing the dishes, easily fill large pitches, and soaking cookie sheets.
The smaller side can be used for food prep i.e washing the meat, veggies, draining pasta, and so on. A 60/40 works as a divider between food and dishes which is not only great from a purely hygienic point of view but also increases your productive manifold.
8. How do I protect my stainless steel sink?
Ans. While stainless steel is usually quite resistant to high heat, chipping, denting, and abrasion, it can develop fine scratches from the knives and sharp edges of certain utensils. Using a right sink protector is helpful to protect stainless steel sinks.
After wiping off the food debris from the surface once you're done doing the dishes, take a sponge or wet cloth, put some soap or a mild abrasive cleaning powder containing calcium and sodium carbonate to scrub off the surface with the grains, not against it.
Let it sit for a few minutes and then rinse it off with a rag, cloth or paper towel. Do not use a metallic cleaning pad or bleach to scour the surface as they can form nasty stains on your lovely stainless steel washbasin.
9. What is the highest grade stainless steel sink?
Ans. If you have made your mind about getting a stainless steel sink, avoid thinner gauges (such as 22, 24, 26 ga or higher) like plague. They might come cheap but that affordability comes at the cost of short lifespan. 16-18 ga (the shorter the gauge number, the thicker it is) provide the right balance between price and durability.
Now, coming to stainless steel grade which denotes the alloy metals used for forging, weldability, hardening, and tempering, 430 is the highest grade stainless sink money can buy. It's a non-hardenable steel containing chromium that makes the material superbly resistant to high impact, heat, shock, scratching, and general wear and tear.
However, they are generally quite expensive. Hence, many top kitchen sink manufacturers also profusely use grade 318 stainless steel which is a relatively cheaper but almost similarly robust alternative to grade 430 stainless steel.
10. How do I polish a stainless steel sink?
Ans. Keeping your stainless steel sink surface looking sparkling clean, shiny and scratch-free is no rocket science. You can formulate a fool-proof stainless sink polisher at home using plain baking soda and water. Make a semi-thick paste and generously dab it all over the kitchen sink surface.
Let it sit for a couple of minutes, then wash the solution away with water and a paper towel or rag, and dawn!. That's all you need to do to make your stainless steel sink surface polished like a newly bought model.
So, What's the Best Kitchen Sink Material?
The availability of space and your budget play a vital role in determining the right sink style and material. The rule of thumb to understand what each variant has to offer, whether it fits your budget and most importantly, whether your chosen one's pros outweigh its cons.
After reckoning with these fundamental factors, you can think over additional factors like how the sink you're choosing will influence the overall decor of your kitchen. I hope this top 10 best types of kitchen sink materials guide makes it easier for you to figure things out.